Figure skater Johnny Weir says he'll wear faux fur at the Olympics after threats of disruption from animal rights groups angry that he is defiant about its use in some of his costumes.
Said Weir: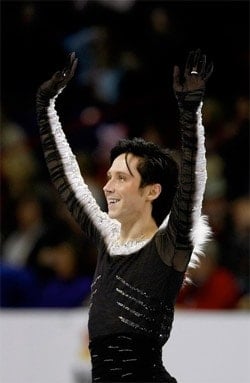 "I would like to announce that due to pressures and threats from a
certain animal rights group, I will be changing the genuine fox fur on
my free program costume that I will use in the 2010 Winter Olympic Games
in Vancouver, B.C., to white faux fur. I made this decision after several threats
were sent to me about disrupting my performance in the Olympic Games and
my costume designer, Stephanie Handler, was repeatedly sent messages of
hate and disgust. I do not want something as silly as my costume
disrupting my second Olympic experience and my chance at a medal, a
dream I have had since I was a kid. I hope these activists can understand that my decision to change
my costume is in no way a victory for them, but a draw. I am not changing in order to appease them, but to protect
my integrity and the integrity of the Olympic Games as well as my fellow
competitors. Just weeks away from hitting my starting position on the ice in
Vancouver, I have technique and training to worry about and that trumps
any costume and any threat I may receive."
Weir angered the groups last week by defending his use of it:
"I totally get the dirtiness of the fur industry and how terrible it
is to animals. But it's not something that's the No. 1 priority in my
life. There are humans dying everyday. There
are thousands if not millions of homeless people in New York City. Look
at what just happened in Haiti. I tend to focus my energy, if there is a cause, on humans. While
that may be callous and bad of me, it's my choice."