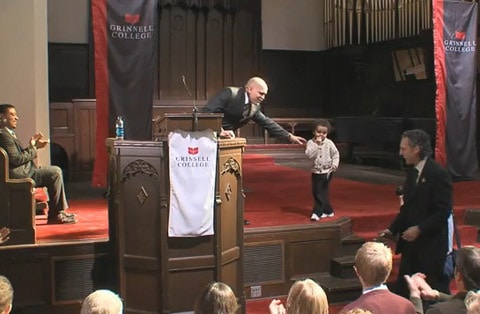 Raynard Kington, the deputy director of the National Institutes of Health (NIH) and a leading scientific researcher on the role of social factors as determinants of health, has been named the next president of Grinnell College in Iowa.
He'll begin the job on August 1.
From a press release: "Dr. Kington; his partner, Peter T. Daniolos M.D., a child psychiatrist at Children's National Medical Center and George Washington University; and their two young children plan to move to Grinnell during the summer and occupy the president's home at the college.Grinnell College is a nationally recognized, private, four-year, liberal arts college located in Grinnell, Iowa. Founded in 1846, Grinnell enrolls 1,600 students from all 50 states and from as many international countries in more than 26 major fields, interdisciplinary concentrations, and pre-professional programs."
Congrats to Kington, his family, and Grinnell.
Kington acknowledged his partner and children (including 4-year-old son Emerson, above) at a surprise announcement regarding his presidency at the college.
Watch it, AFTER THE JUMP…