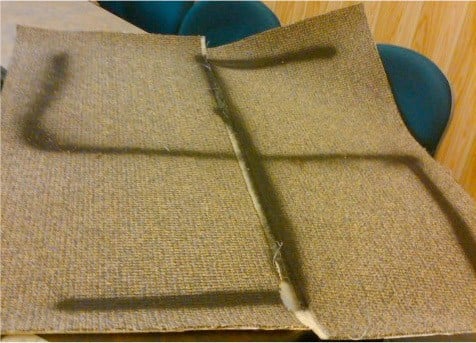 A custodian at the University of Oregon discovered a four-by-four foot swastika spray painted on carpet in an office belonging to the Lesbian Gay Bisexual Trans Queer Alliance early Monday morning. Computers were also damaged with the paint.
University President Richard W. Lariviere sent a letter to students following the discovery, which said, in part: "We must do all that we can to come together as a community to fight such acts of intolerance and to provide support to those affected as we deal with the aftermath of this event.
This act of vandalism is not about exercising free speech or having challenging, difficult conversations; this is about hate and vandalism. We will vigorously pursue all avenues available to us to hold the perpetrators accountable for this cowardly act. We will continue to work with the Department of Public Safety and student leaders to ensure that we are doing all that we can to preserve the safety and security of our students, faculty and staff. "
The custodian reportedly found the door unlocked with no signs of forced entry.
Suspicions have arisen about a connection of the incident with the Pacifica Forum, an outside group which meets on campus which has been classified as a hate group by the Southern Poverty Law Center. The group recently had a discussion about the meaning of the swastika.
Students will hold a candlelight vigil this evening, with a march and rally scheduled for tomorrow in response to the vandalism.
Much more on the incident here.