Over the weekend, a 21-year-old gay activist named Peter Sawali was arrested after being discovered putting up posters on the streets of Blantyre, Malawi that read "Gay Rights are Human Rights", police are hunting for the activists that they believe are working with him.
"'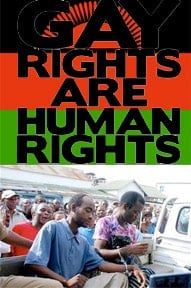 We arrested Peter Sawali last Saturday after we were tipped that there are people pasting posters promoting the so-called rights of gays and lesbians on the streets of Blantyre,' police spokesman Dave Chingwalu told PANA in an interview Tuesday…'We are still investigating because we believe there is a chain of people who were working with Mr. Sawali,' said Chingwalu.
He said police believed Sawali, whose source of livelihood authorities were yet to be established, was being sponsored by 'an individual or group of individuals ' with deep pockets. 'We cannot rule out international sponsors because of the quality and the quantity of the posters,' he said, adding 'they might even have been produced outside the country.'
Recently, government lambasted local NGOs who were allegedly offered upwards of US$ 500,000 by international gay rights advocates to promote gay rights in Malawi.
No local NGO openly accepted the offer, although some of them have openly condemned Malawi's homophobic laws.
Chingwalu, the police spokesman, said Sawali would be charged with conduct likely to cause breach of peace, a misdemeanour that can see the accused – if convicted – fined up to 5,000 Malawi kwacha (about US$ 36) or sent to jail for up to three months."
The activists were protesting the improsonment of Steven Monjeza and Tiwonge Chimbalanga who have been jailed for more than a month because they held an engagement ceremony.