Reuters reports that a two-decade search for solutions regarding a specific facet of the HIV virus is finally reaping rewards: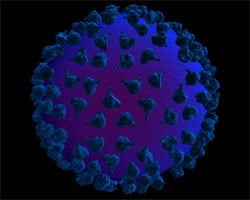 "British and U.S. researchers said they had grown a
crystal
that enabled them to see the structure of an enzyme called
integrase, which is found in retroviruses like HIV and is a
target for some of the newest HIV medicines… When the human immunodeficiency virus (HIV) infects someone, it uses the integrase enzyme to paste a copy of its genetic information into their DNA, Cherepanov explained in the study published in the Nature journal on Sunday.
Some new drugs for HIV — like Isentress from Merck & Co (MRK.N) and elvitegravir, an experimental drug from Gilead Sciences (GILD.O) — work by blocking integrase, but scientists are not clear exactly how they work or how to improve them.
The only way to find out was to obtain high-quality crystals — a project that had defeated scientists for many years."