At a Senate Armed Services Committee hearing this morning, Senator Carl Levin asked Army Secretary John McHugh and Army Chief of Staff George Casey if they would object to putting a moratorium on discharges under "Don't Ask, Don't Tell" while the Department of Defense completes its review. The two Army leaders expressed opposition.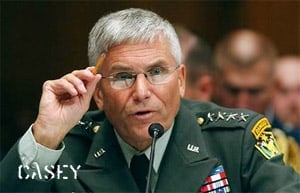 Said Casey: "Anything that complicates [implementation of the repeal] more, I would oppose that."
McHugh initially said he'd be okay with such a moratorium. When Casey objected, saying it would complicate the study process, McHugh clarified his remarks, saying that his "personal choice" would not be to enact one, but that the Army would do so under Congressional direction.
Casey expressed serious concerns about the impact of the repeal while engaged in two wars but says he supports Gates plan and will offer his observations to the review process.
John McCain criticized a proposal to attach the "Don't Ask, Don't Tell" repeal to a Defense Dept. authorization bill, saying he was greatly concerned and citing last year's hate crimes bill (which was also attached to a Defense Dept. authorizaiton bill), saying "precedent was shattered" by the majority.
Senator Jack Reed asked Casey whether any problems had been seen in other country's integration of gays in its armed forces, specifically the UK and Canada. Casey said he had heard nothing about any conflicts.
Note: Aside from confirmed info via link at top of article, this post has been gleaned via Tweets from @kerryeleveld, @metroweekly, @leoshane, and others.