A Malawi judge today refused to hear the case of Steven Monjeza and Tiwonge Chimbalanga, who have been jailed since late December on charges of "gross indecency" after holding an engagement ceremony, meaning the couple must remain in prison until March 22, when they will learn their fate: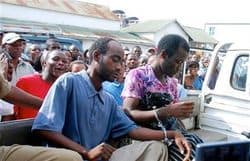 The Independent reports:
"Their lawyer, Mauya Msuku, appealed in January to the constitutional court, arguing that the law used against them violated their constitutional rights to privacy, belief and self-expression.
Chief Justice Lovemore Munlo said the case was a simple criminal proceeding.
'There are no elements in the case that relate to the interpretation or application of the constitution,' Munlo said in his ruling. He said the proceedings 'deal with criminal offences under the penal code, namely the offence of buggery and indecent practices'."
The couple faces up to 14 years in prison and hard labor.