In January I reported that anti-gay pastor and Rick Warren buddy Martin Ssempa had held a screening of gay porn to scare up support from the public for the pending anti-homosexuality bill.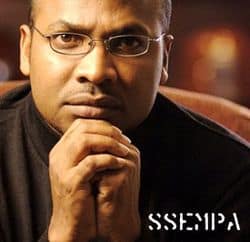 He held another screening today, after police blocked plans for his Million Man "Kill the Gays" March. The screening took place in a packed Kampala church, AFP reports:
"The screening was attended by around 300 supporters crammed into an evangelical church in the Ugandan capital after plans for a 'million-man march' were thwarted by police.
'We had planned to have a million-man and -woman march in Kampala but unfortunately we were told that we could not march because of security concerns," Martin Ssempa told the crowd.
'The major argument homosexuals have is that what people do in the privacy of their bedrooms is nobody's business but do you know what they do in their bedrooms?,' the pastor asked.
Ssempa then displayed a slide show of gay pornographic pictures.
'This one is eating another man's penis,' the pastor said, before going into even more graphic descriptions.
'Is this what Obama wants to bring to Africa?' he said, following fierce US criticism of a Ugandan bill drafted last year that would further criminalise homosexuality."
Ssempa is Pastor Rick Warren's right-hand man in Uganda.
Kathleen Parker writes in the Washington Post today that Warren should be more involved in stifling the dangerous Ugandan situtation:
"It may not be Warren's personal calling to comment on 'political process.' But is neutrality really an option for one of the world's most powerful Christian leaders when state genocide of a minority is proposed in the name of Christianity?
If we decide that genocide is too political for interference, then what good is moral leadership?…The proposed law is a case study in the unintended consequences of moral colonialism."