Surveillance video: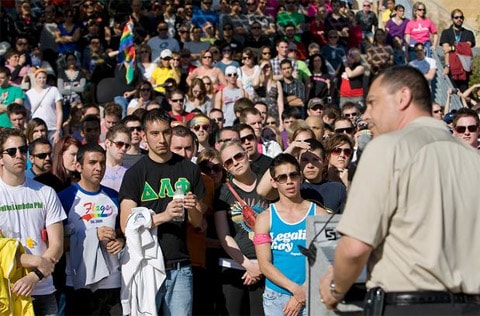 (image Austin American-Statesman) 
Austin's KVUE reports that nearly 1,000 people joined the "Austin March Against Hate" yesterday in response to the hate crime committed against two gay softball players last week.
The Statesman adds: 
"Trailing a banner that read 'Austin March Against Hate,' hundreds of people walked from a downtown gay bar to City Hall on Saturday to retrace the path of two gay men who were attacked last weekend.'Ignorance is not the way. Fear is not the answer. Love will conquer hate,' one of the victims, Emmanuel Winston, told the crowd. 'Hate will not be tolerated, and we will not be silenced.' … Police Chief Art Acevedo attended the rally Saturday and said police were still investigating the attack and that it will be up to prosecutors to decide whether there is enough evidence to charge the suspects with a hate crime.He asked the marchers and City Council members present at the rally to push for high-resolution video cameras downtown, saying that video of the four suspects (inset) captured on a City Hall camera was grainy. Police released that video Friday . No arrests have been made."
Watch KVUE's report on the march and the surveillance video of the attackers,
AFTER THE JUMP…