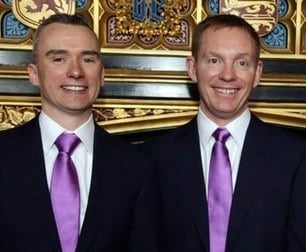 Britain's Parliament has officially seen it's first gay marriage. Chris Bryant, the Minister of State for Europe, married his partner in a civil ceremony in the Palace of Westminster earlier today.
"Bryant, a member of the governing Labour Party, won permission to hold his civil partnership ceremony with partner Jared Cranney at the Palace of Westminster — home to the Houses of Parliament.
Bryant lobbied House of Commons speaker John Bercow to apply for a license to host his civil partnership ceremony."
This isn't a one time thing. Same-sex marriage ceremonies in Parliament will now be open to all members of the public, including same-sex couples.
Said Bryant of the ceremony: "Parliament is special because it has made it possible. We are delighted that everyone in the UK can now share in a privilege that used to be available just to straight MPs."