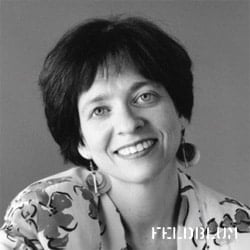 Yesterday, President Obama announced that he would make fifteen recess appointments in key government positions and expressed his frustration with a lack in progress with the nominations due to delays in the process by the Senate.  Reasoned Obama: "I simply cannot allow partisan politics to stand in the way of the basic functioning of government."
One of those appointments is that of openly gay Georgetown law professor Chai R. Feldblum, who will head the Equal Employment Opportunity Commission.
You may recall that homophobic right-wingers opposed her nomination arguing that "Feldblum intends to use her position of influence as EEOC commissioner to force private institutions to follow her radical vision of society, through the enforcement of aggressive and intrusive employment non-discrimination laws."
Feldblum testified with the Senate Health, Education, Labor and Pensions Committee back in November. A "secret hold" was placed on her nomination just earlier this month.
This appointment makes Fledblum the first openly gay Commissioner of the Equal Employment Opportunity Commission.