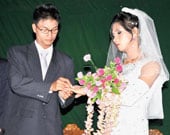 Two gay men, Sandip Soibam and Nikhil Hidangmayum, were married in Manipur a few days ago, making it the first public marriage in the Indian state. It's now being reported that the couple, who have been together for six years, will split due to pressure applied from their parents. 
"The police summoned Nikhil and Sandip on Friday morning on the basis of complaints lodged by their family members.
Officials said the marriage was not legally tenable since all Nikhil
and Sandip did was exchange rings and not marriage vows. The marriage
should have been solemnised according to the Hindu Marriage Act or any
acceptable convention, it was pointed out."
The forced break-up is even more sad when you read what Nikhil had to say about his wedding day: "My happiness is boundless. I am very happy today. I realised a long cherished dream."