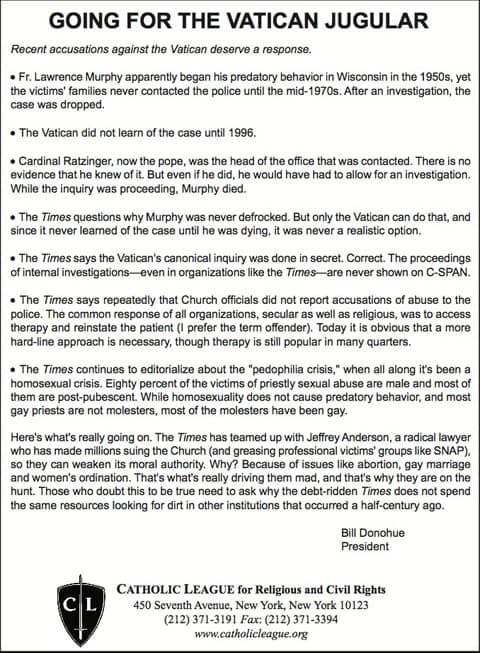 Bill Donohue of the Catholic League, an organization Kathy Griffin once described as one man in a room with a computer, has taken out a quarter-page ad in the New York Times today defending Pope Benedict and the Catholic Church from allegations of sexual abuse of children by Catholic clergy.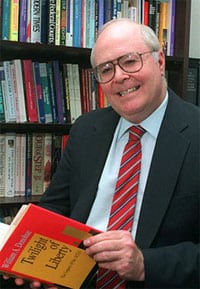 In recent weeks the paper has published well-researched articles documenting the abuse, including, 200 deaf boys at a school in Wisconsin, hundreds of cases in the German church (so many that the Vatican can't handle the workload), the abuse of altar boys on video by Brazilian priests.
And just today, some new allegations out of Miami regarding a Cuban priest. The Vatican tried to cover up this case as well.
Donohue attempts to deflect blame on the church by, among other things, once again bringing up the disproven canard that it's somehow the fault of gays.
Donohue writes: "The Times continues to editorialize about the 'pedophilia crisis,' when all along it's been a homosexual crisis. Eighty percent of the victims of priestly sexual abuse are male and most of them are post-pubescent. While homosexuality does not cause predatory behavior, and most gay priests are not molesters, most of the molesters have been gay."
Sorry Bill, pedophilia has nothing to do with homosexuality, and the Catholic church should be ashamed of its ongoing efforts to cover up the epidemic of abuse that has been inflicted upon innocent children.
You may have missed…
Catholic Priests Sexually Abusing So Many Children Vatican Can't Handle Workload [tr]
Video: Brazilian Catholic Priest Allegedly Abusing Teen Altar Boy [tr]
Catholic Priest Molested 200 Deaf Boys, Vatican Failed to Stop It [tr]
Get Towleroad Headlines Daily.
News daily from one of the most trusted, independent, lgbtq owned and operated media outlets. Covering news, entertainment, science, media, art and more for almost 17 years.