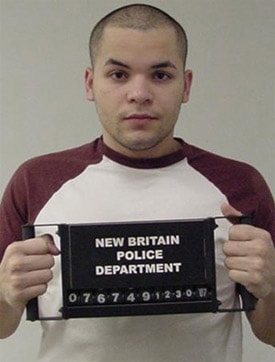 In January 2008 I posted about the Christmas Eve 'internet date' killing of a 41-year-old man, Thomas Szadowski, in Southington, Connecticut. Yesterday, a video confession from that man's killer was played for jurors in a courtroom.
Reports the Hartford Courant: "The video is of an interview with police in which he admits shooting Szadkowski in Szadkowski's apartment in Southington.
'I always say I ain't scared anymore, but I was kind of scared,' he says in the video. He wondered if Szadkowski would rape him or if the drinks he was offered were drugged. Mercado said Szadkowksi touched his leg and tugged at his belt. They eventually engaged in oral sex, he said.
Mercado, who told Szadkowski he was not gay or bisexual, said he stood by the door, feeling like a little kid.
'Why couldn't I just leave? I was right there in front of the freakin' door,' he said.
He said he needed fresh air and went to the trunk of his car, where he kept a firearm. He returned to the home. He said in the video that he doesn't remember too much of the shooting. He said he couldn't hear anything except a ringing in his ears.
'Then I heard a thud,' he said. The 'thud' was the sound of Szadkowski falling to the floor."