Foes of marriage equality have appealed to the U.S. Supreme Court to block a law set to go into effect on Wednesday, at which time gay couples could begin applying for marriage licenses in the District of Columbia: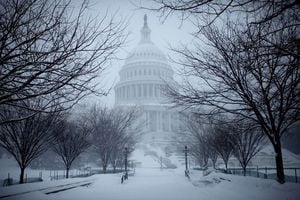 "Court papers filed Monday with Chief Justice John Roberts argue that Washington residents should be able to vote on the matter. Local courts have rejected the opponents' arguments.
The gay marriage opponents include a Baptist minister, Walter E. Fauntroy, who was Washington's delegate in the House for nearly 20 years."
Pam Spaulding notes that Fauntroy was a friend of Dr. Martin Luther King, Jr. 
Although couples are allowed to apply for marriage licenses on Wednesday, a three-day waiting period means they won't be able to begin marrying until March 9.