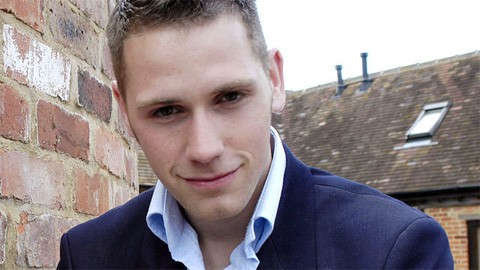 UPDATED
Kristian Digby, a BBC television host and property expert featured in the network's shows Double Agents, Living In The Sun, House Swap, Buy It, Sell It, Bank It, and To Buy or Not To Buy, was found dead at his home earlier today.
The Daily Express reports: "Sources close to the presenter, who was gay, suggested his body was found by his ex-partner, a former policeman.Paramedics who were called to his flat in Newham, east London, pronounced him dead at 7.45am.Metropolitan Police officers launched an investigation and sources said he had died in "unexplained" circumstances.There are no suggestions his death was suicide."
A BBC spokesman said: "Kristian was a much-loved and talented presenter for BBC Daytime. He brought a real sense of energy and warmth to all the shows he presented and will be sorely missed. Our thoughts are with his family at this very difficult time."
UPDATE: Digby may have died of autoerotic asphyxiation. "The post mortem is expected to answer the question whether he died of suffocation after deliberately restricting his supply of oxygen. Auto-erotic asphyxiation, which has been condemned by police and medical experts as a dangerous practise, is said to heighten sexual arousal…According to reports a belt and a bag were removed from the property for forensic tests."
Watch a clip reel of Kristian Digby, AFTER THE JUMP…