The Daily Beast has four more clips from the interview.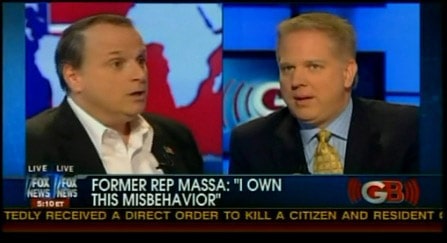 Former Rep. Eric Massa (D-NY) told Glenn Beck earlier this evening that he didn't "grope" a male staffer, it was simply a tickle attack:
"Yeah, I did. Not only did I grope him, I tickled him until he couldn't breathe and four guys jumped on top of me. It was my 50th birthday and it was kill the old guy."
Added Massa: "It doesn't make any difference what my intentions were, it's how it's perceived by the individual who receives that action. I'm telling you I was wrong. I was wrong. My behavior was wrong. I should have never allowed myself to be as familiar with my staff as I was."
Watch, AFTER THE JUMP…