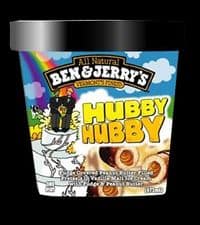 Gay couple to marry at Ben & Jerry's in Georgetown today: 
"Keith Spangler and Andreas Vellios plan to exchange vows inside the Georgetown Ben & Jerry's Scoop Shop on Thursday. Father Lance Ornoff of Ward 1's All Souls Unitarian Church will officiate the ceremony, but the couple will also be celebrating with the actual Jerry — Jerry Greenfield, the co-founder of Ben & Jerry's — who plans to be in attendance to offer a toast and say a few words about his company's history of promoting social justice."
The new marriage equality law went into effect in Washington D.C. earlier this week. Last August, when marriage equality went into effect in Vermont, the ice cream chain temporarily changed the name of its popular flavor "Chubby Hubby" to "Hubby Hubby" for the month.