The hits never seem to stop coming from Virginia attorney general Ken Cuccinelli, who says the state will sue over health care reform legislation: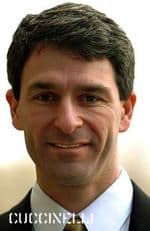 "Cuccinelli is expected to argue that the bill, with its mandate that requires nearly every American to be insured by 2014, violates the commerce clause of the U.S. Constitution. The attorney general's office will file suit once President Barack Obama signs the bill into law, which could occur early this week.
'At no time in our history has the government mandated its citizens buy a good or service,' Cuccinelli said in a statement last night.
Word of the impending legal action came as the U.S. House debated late into the evening and passed the landmark reform legislation, 219-212.
The votes of the House delegation from Virginia mirrored those cast when Obama's health-reform package first came up for a vote in November.
Four of Virginia's six Democratic congressmen supported the $940 billion bill: Rep. Robert C. Scott, D-3rd, Rep. Tom Perriello, D-5th, Rep. Gerald E. Connolly, D-11th, and Rep. James P. Moran, D-8th."
In unrelated news, on Friday, Cuccinelli,  who has been under fire for advice he gave two weeks ago that public universities should rescind their bylaws protecting gays and lesbians from discrimination, said that homosexual acts are a detriment to our culture.
There is an LGBT PROTEST of Ken Cuccinelli on Tuesday at George Mason University School of Law from 4pm – 8pm. Facebook info HERE. Also, HERE.