Iowa Governor Chet Culver, who believes in opposite marriage, today praised lawmakers for not taking up an amendment that would strike down the state's marriage equality law, the Sioux City Journal reports.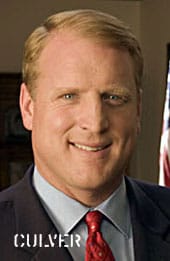 Said Culver: "We stood firm for the civil rights of every Iowan by saying loudly and clearly that any and all efforts to add discriminatory amendments to our state constitution have no place in our state constitution. Regardless of our personal views, we have a line that needs to be drawn between the executive branch and the judicial branch and I think Iowans are ready to move on and accept that unanimous decision. I think the overwhelming majority of Iowans do not want to amend our constitution in such a way that's discriminatory. I think that's the bottom line. I think Iowans want to move forward and the Supreme Court has spoken loudly and clearly and I think it's time to move on."
Not that they didn't try.
As you may remember, in February the Iowa House GOP implemented an obscure House rule to try to get a same-sex marriage ban in front of legislators for consideration. The GOP in the Senate tried the same thing. At least four Democrats have since signed on to their cause.