Iowa Family Policy Center's Chuck Hurley, the state's most ambitious anti-gay wingnut, who organized rallies to pressure the state Supreme Court over its ruling on marriage equality, says giving gays marriage rights is facilitating disease, citing a report this week by the U.S. Centers for Disease Control that showed gay men have higher rates of HIV and syphilis. 
Said Hurley in a statement: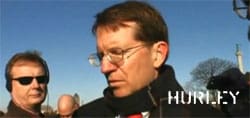 "The Iowa Legislature outlawed smoking in an effort to improve health and reduce the medical costs that are often passed on to the state. The secondhand impacts of certain homosexual acts are arguably more destructive, and potentially more costly to society than smoking. Homosexual activity is certainly more dangerous for the individuals who engage in it than is smoking….Because of their (legislators) unwillingness to correct the error of last April's Iowa Supreme Court opinion, the Iowa Legislature is responsible for sanctioning activities that will lead to dramatically higher rates of HIV and syphilis in Iowa."
Responded Jordan Selha, executive director of the AIDS Project of Central Iowa: "Stigma and discrimination only add to the barriers people face in accessing testing, prevention and healthcare services."