Last Thursday I posted that openly lesbian Rev. Mary Glasspool had received the necessary amount of consents for final confirmation as an Episcopal bishop.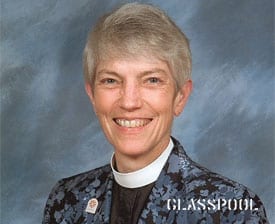 She has been confirmed, in Los Angeles:
"Mary Glasspool is the first openly gay bishop approved since 2003, when the election of a gay man as bishop of New Hampshire caused such an uproar that the U.S. church, under pressure from other members of the global Anglican Communion, imposed a moratorium on such elevations. The ban was lifted last year.
Glasspool is also one of the first two women to be elected as bishops in the 114-year history of the Los Angeles diocese. The other, Diane M. Jardine Bruce, won final approval March 8.
'I'm overjoyed,' Glasspool said in a phone interview from Baltimore, where she is canon, or senior assistant, to the bishop of Maryland. 'It's time to celebrate. . . . I know there are people who might not be overjoyed by this, and I am committed to reaching out with my own hand and my own heart to people who might not feel the same as I do.'"
Glasspool will be ordained and consecrated at a ceremony on May 15.