Meredith Vieira has apologized for remarks on the Today show to Hurt Locker star Anthony Mackie. On the post-Oscar show, Vieira asked Mackie if his hugs with co-star Jeremy Renner were something she needed to be "worried about."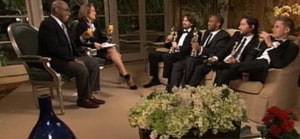 Said Vieira in a statement to GLAAD: "During an interview with the cast of the hurt locker on Monday, I turned to actor Anthony Mackie and made a joke about 'man hugging' in reference to a hug he and fellow actor Jeremy Renner had shared a few weeks earlier on our air. It was meant to be lighthearted, but some were offended by what they believed to be a homophobic comment. That was never my intent, but that doesn't matter. Words are extremely powerful and should never be chosen lightly, even in a lighthearted moment. I apologize to any and all that I offended. My support of the gay and lesbian community is longstanding and well documented. It has not and will never waver."
In related news, the National Enquirer engaged in what Boy Culture calls a "passive-aggressive" outing of Renner.