Cynthia Nixon has recorded a video in support of Fight Back NY, the new PAC targeting New York state senator Hiram Monserrate and others who voted against marriage equality in the Empire State.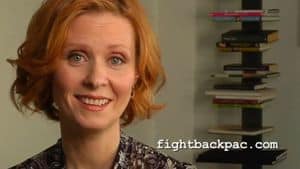 Says Nixon in the spot: "I am a lifelong New Yorker but I don't have the rights that most of my friends and neighbors do. I'm engaged to the woman I love, but on December 2, the New York State Senate voted against my right to marry her. Last year prior to the vote, so many of us went up to Albany to speak with our state senators about why marriage equality is so important to us and to our families. They didn't get the message. They still think that it's okay to treat me and hundreds of thousands of New Yorkers like second-class citizens. I'm not okay with that. That's why I've decided to fight back. I'm supporting Fight Back New York so that we can finally show these anti-equality state senators that there are consequences to their actions – that they can lose their seats for voting against our rights. Fight Back New York is a smart, strategic political action committee, with the sole purpose of defeating senators who voted 'no' on equality. Join me and fight back. Sign up and donate today at fightbackpac.com.One hundred percent of every dollar that you contribute will go directly toward taking anti-equality senators out of office. We've tried the carrot, now it's time for the stick. It's time for anyone who believes in equality to fight back."
Watch, AFTER THE JUMP…
In related news, Fight Back NY tells Towleroad that its fourth piece of mail is hitting mailboxes in Hiram Monserrate's district now. Monserrate has been using attacks against gay people as his primary campaign tactic.