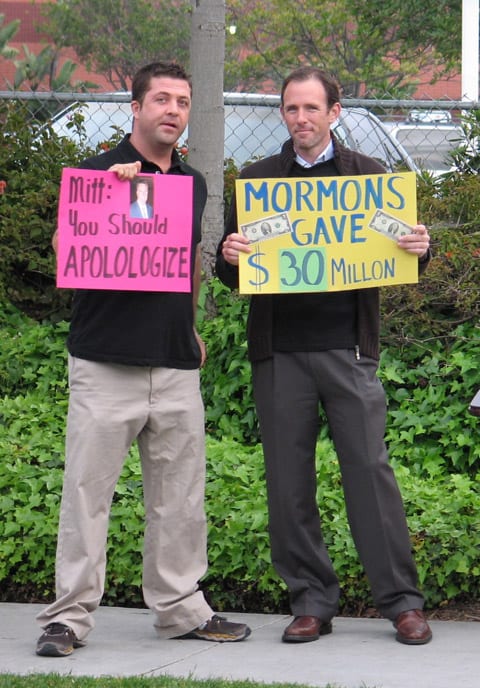 Story and photos by REX WOCKNER
A dozen gay people protested an appearance by Mitt Romney at a Mormon bookstore in La Jolla, Calif., yesterday.
They said Romney should apologize for Mormons' having donated "$30 million" to the campaign that led to the passage of Proposition 8, which re-banned same-sex marriage in California in 2008.
"As a national political leader and influential member of the Mormon Church, Mitt Romney could persuade church leaders to end their 15 years of active involvement and massive financial support to oppose equal rights for gay and lesbian Americans," said Californians Against Hate, which organized the demonstration.
The protest took place outside a mall that houses the Deseret Book Company, where Romney signed copies of his new book, "No Apology: The Case for American Greatness."
News reporters and photographers were not allowed inside the store. News photographers were instructed to take their pictures through the windows.
Several hundred people waited in line to meet the former Massachusetts governor and 2008 presidential candidate.
Romney is considered a front-runner for the Republican nomination in the 2012 presidential election.