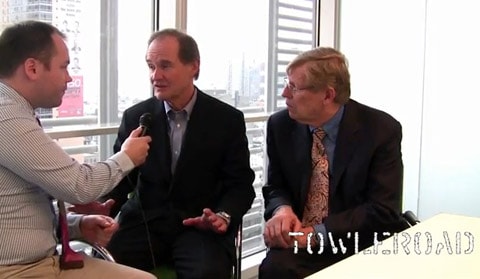 [TOWLEROAD EXCLUSIVE]
Last night, lead attorneys in the federal challenge to Proposition 8, David Boies and Ted Olson, made their first public appearance since the Perry v. Schwarzenegger trial began in January at a New York Times 'Unlikely Allies' talk before 150 people at NYT headquarters in midtown Manhattan.
Before their talk, Olson and Boies gave an exclusive interview to Towleroad during which we were able to ask them a few questions that have come up since January. A final round of briefs was submitted at the end of February, and closing arguments are still to be heard.
In the interview with Towleroad's political director Corey Johnson, Boies and Olson discuss where we go from here. They also address concerns from some in the community that the information that Judge Vaughn Walker is gay might have some effect on how the outcome of the trial is spun. 
Is there a concern that if and when the case reaches the U.S. Supreme Court, the justices will feel that they are getting ahead of public opinion on the issue? What does the Supreme Court's decision about not allowing cameras in the courtroom mean for their ultimate decision in the Prop 8 trial? Will it all be up to swing-vote Justice Anthony Kennedy? 
Finally, what is their message for gay and lesbian Americans anxious for the process to move quickly?
Watch our interview, AFTER THE JUMP…