The Miami Herald revives the murder case of the son of America's Most Wanted host John Walsh, linking Adam Walsh's death to serial killer Jeffrey Dahmer: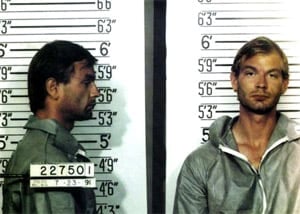 "In December 2008, Chief Chadwick Wagner called a press conference to say deceased drifter Ottis Toole — long suspected but never prosecuted — killed Adam. Adam's parents believed it and Broward prosecutors said Toole was the only valid suspect. Case closed.
But had authorities fully explored Dahmer's time in South Florida, they would have found more evidence implicating him than Toole…The evidence includes two additional witnesses who said they saw him at the mall with Adam that day, another who placed Dahmer at the scene of an eerily similar abduction attempt two weeks earlier, and people who said he had access to a van fitting an early description of the getaway vehicle.
The 29-year-old murder remains among the most vexing unsolved crimes in America, and no one can say with certainty that Dahmer — or any of the other myriad suspects to drift through the case — snatched the child.
Yet by focusing so heavily on Toole despite layers of contradictions in his long twisted tale, Hollywood police may well have missed leads pointing to Dahmer, according to fresh interviews and a review of thousands of documents."
Dahmer was beaten to death in prison in 1994 while serving a sentence of 15 consecutive life terms in prison for the gruesome murders of 15 men and boys between 1978 and 1991.