Police are investigating threats to cast members and the director of a Tarleton State University production of Corpus Christi, Terrence McNally's 1998 play about a gay Jesus Christ, which was cancelled over the weekend due to safety concerns.
The Star-Telegram reports: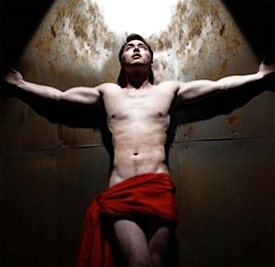 "Some of the e-mail messages and callers threatened to harm the play's director and cast members. Others were more veiled: 'The Socialist anti-Christ groups as well as the homosexuals and lesbian community will be the brunt of an out-pouring of unabated hatred that may well dwarf the present attitude toward the murdering Muslim fanatics,' one read. 'Whatever penalty and punishment you receive, know that I sincerely believe you deserve it as a socially corrupt college and an institution of less than higher learning.'
Charges could be filed if authorities determine who made the threats."
Meanwhile, the National Coalition Against Censorship issued a statement (PDF) about the cancellation.
Said the group, in part: "The cancellation of Terrence McNally's play Corpus Christi by Tarleton State University, under pressure from the Catholic League for Religious and Civil Rights and others, is an affront to academic freedom and First Amendment principles of free speech. The play was denounced by Tarleton's president, Dominic Dottavio, who called it 'crude and irreverent.' Texas Lieutenant Governor David Dewhurst opined that 'no one should have the right to use government funds or institutions to portray acts that are morally reprehensible to the vast majority of Americans.'
Even a play that depicts conduct considered "morally reprehensible" or 'irreverent' by some is fully protected under the First Amendment, which prohibits the enforcement of any specific view of religion or morality. It is deeply troubling that people in leadership roles – a university president and high elected official – should display such disregard for, if not ignorance of, basic constitutional principles.
The University claims that the play's cancellation was due to concerns over "safety and security" because of threatening emails. Even if that were the real reason for the cancellation, it is hardly a legitimate excuse. By giving in to threats of violence, the University only encourages them. Our constitution envisions reasoned discourse as the way to resolve disputes, not threats designed to intimidate and silence discussion and debate."