In an interview with LGBT POV's Karen Ocamb on a variety of issues, Rep. Jared Polis (D-CO) says that a vote on the Employment Non-Discrimination Act (ENDA) is coming: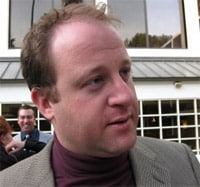 "We have the votes to pass ENDA in the House and we hope to bring it before the committee I serve on – the Education Labor Committee – within the month – by the end of April. And then, once it passes the committee, it shouldn't take more than a couple of weeks – a week or two – to schedule it for the floor. It's just a scheduling matter…I don't know about the Senate – but in the House, we expect to pass out substantially. It has substantial support. The Senate requires 60 votes so it's a matter of getting some Republican moderates to support it."
On other issues, Polis says the sooner the repeal can happen the better on "Don't Ask, Don't Tell". Polis also discusses a bill he introduced — the Student Non-Discrimination Act, which prevents discrimination against gay and lesbian students, and a bill Barbara Boxer just introduced to extend COBRA health benefits to domestic partners.
In other DADT news, Americablog looks at a recent brief in which the Justice Dept. offers a "full-throated" defense of the policy.
Politico notes that the brief cites old, since-changed views of Colin Powell:
"This is pretty shocking," said Richard Socarides, the White House liaison to the gay community under President Bill Clinton. "When Powell said this 18 years ago, it was inflammatory and incendiary. … [Powell]'s now said this stuff isn't even true anymore."