In an interview published in the San Diego Gay & Lesbian News, Rep. Tammy Baldwin (D-WI) said that she believes the votes are there for passage of the Employment Non-Discrimination Act and DADT repeal: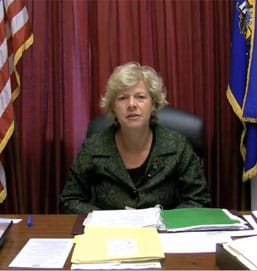 "Baldwin does believe the votes are in place in the House to pass ENDA and a DADT repeal bill.
'As someone who has actually counted the votes, I believe that there are,' Baldwin said. 'That's one of the things the LGBT Equality Caucus does is to [focus] attention to making sure we can tell [House] leadership, with accuracy, what the vote would be if they bring the measures up to the floor.'
The Congressional LGBT Equality Caucus is a group of legislators in the House who are strong supporters of equal rights for LGBT people. The caucus is organized similarly to the Congressional Black Caucus and the Congressional Hispanic Caucus.
Baldwin and Rep. Barney Frank established the LGBT Equality Caucus in June 2008. It now includes nearly 90 members of Congress.
President Barack Obama has recently met with both the Congressional Black and Congressional Hispanic caucuses, but not yet with the LGBT one. Baldwin says this is because 'we haven't put a spotlight on it of late.' She said the group 'probably' would press for a meeting with the president in the future.
Pressure has grown dramatically in recent days for a spotlight on LGBT-related issues in Congress."
Lt. Dan Choi, Cpt. Jim Pietrangelo, and activist Robin McGehee were arrested last week during civil disobedience meant to put pressure on the White House to make Congress act on "Don't Ask, Don't Tell". The same day, sit-ins were held in House Speaker Nancy Pelosi's offices in San Francisco and D.C. to pressure the Speaker to move ENDA to the floor for a vote.