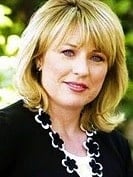 Andrea Lafferty of the Traditional Values Coalition has written a letter asking the organization's supporters for donations so they can "educate Members of Congress and the public on this serious threat (the repeal of "Don't Ask, Don't Tell") to our military readiness." In the letter, titled "Help Us Defend The Military From the Gay Agenda," Lafferty refers to gay men as "sex-crazed gay males" and claims that military soldiers will no longer be able to "express (their) disapproval of sodomy or any other bizarre gay behaviors" that would come with the repeal of the policy.

She continues:

"When I was sitting in that hearing room
listening to Senator Levin and other pompous liberals blather on about
the importance of gays and lesbians serving openly in the military, I
felt sick to my stomach. But, I was also filled with anger that some
Members of Congress would be so willing to undermine our military in
order to cater to a small minority of individuals who love to engage in
bizarre sex acts."
What makes me sick to my stomach? Reading her letter.