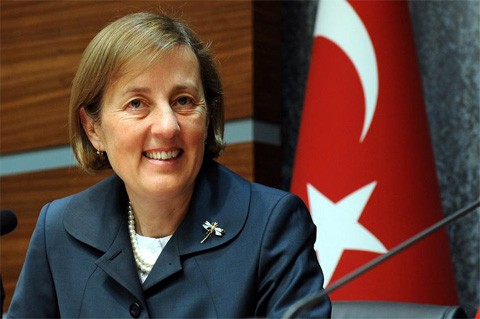 A Turkish gay rights group is protesting remark's by the country's Family Affairs Minister, Aliye Selma Kavaf, that homosexuality is a biological disorder that should be treated, Deutsche Welle reports:
"The complaint, by the LAMBDA Association, charges that Kavaf's remarks in a newspaper interview were 'an insult, incitement to crime and incitement to enmity and hate' – crimes which, in Turkey, are punishable by up to five years in jail. Kavaf had said that she believed homosexuality was a 'biological disorder, a disease.'
'I think it should be treated,' she was quoted as saying.
Kavaf 'should apologize to lesbians, gays, bisexuals, transvestites and transsexuals in this country for her discriminatory statements that turn homosexuals into a target,' said Ruzgar Gokce, a LAMBDA member, outside the Istanbul courthouse where the group filed its complaint.
'The only person who is sick, is the minister,' chanted dozens of gays and lesbians in front of the courthouse.
Firat Soyle, a lawyer for LAMBDA, said the complaint was only symbolic since the minister enjoyed parliamentary immunity and would not face prosecution."
Kavaf has thus far refused to apologize, but her remarks have been denounced by parties, unions, and NGOs, DW reports.
Also: "The controversy will raise eyebrows in Brussels, where observers say there are growing questions about the sincerity of the Islamic government's commitment to implementing European Union membership requirements."