A ridiculous assertion, of course.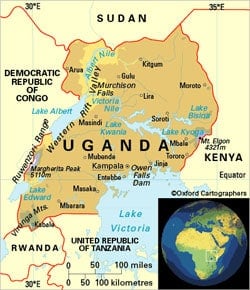 But, isn't the opposite what some anti-gay religious pastors would be preaching if this happened in San Francisco?
"Landslides caused by heavy rain in Uganda's mountainous coffee-growing district of Mbale killed at least 50 people, police and local officials said Tuesday.
Hundreds more are still missing after dozens of homes were washed away in Bududa County overnight, according to local authorities…The search for survivors is continuing, Judith Nabakoba, the Ugandan police spokeswoman, said. 'Our rescue team is on the ground, we hope to find some survivors,' she added.
Police officials said that at least 50 bodies were recovered Tuesday morning. People close to the situation say that the death toll is expected to rise as at least 300 people are missing."
Loss of life in any natural disaster is a terrible thing. Hopefully the Ugandan parliament can take its focus off the "kill the gays" bill momentarily to give aid to its people.