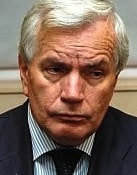 The fallout from the Vatican gay prostitution scandal:
"Ghinedu Ehiem, a Nigerian who sang in a choir that performs at St.
Peter's Basilica, was dismissed after the center-left daily newspaper
La Repubblica reported Wednesday that he had procured men, including
seminarians, for Angelo Balducci, a former member of the board of
Italy's public works department who was arrested and jailed last month
on corruption charges.
After his arrest, Mr. Balducci was removed from his Vatican post in The
Gentlemen of His Holiness, an elite group of ushers who serve at the
Apostolic Palace when visiting dignitaries meet the pope."
Wire-tapped phone conversations reveal the discussions Ehiem had with Balducci about the kind of men he had available for sex:
 "'I have a situation from
Naples,' Mr. Ehiem says in one conversation, according to La
Repubblica. 'I have a situation from Cuba,' he says in another,
continuing with 'a German who just arrived from Germany,' "two black
guys," "the soccer player" and 'the dancer for the RAI' state
broadcaster."
So far, the Vatican has been mum about the whole scandal.