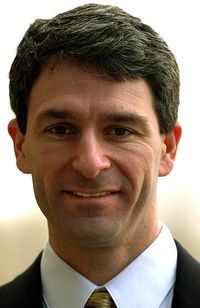 Virginian Republican Attorney General Ken Cuccinelli has written a letter to all of the state's public colleges encouraging them to abolish policies that prohibit discrimination of gays and lesbians. 
"It is my advice that the law and public policy of the Commonwealth of
Virginia prohibit a college or university from including 'sexual
orientation,' 'gender identity,' 'gender expression,' or like
classification as a protected class within its non-discrimination
policy absent specific authorization from the General Assembly."
Carl Pucci, student body president at Old Dominion University in Norfolk Virginia, had this rational reaction to Cuccinelli's letter:
"It's going to be a mess. There's no doubt about that. Our
generation is really open-minded. The concept of discrimination, we're
just not interested in that … I think you're going to see the whole
gamut, from angry letters to protests."