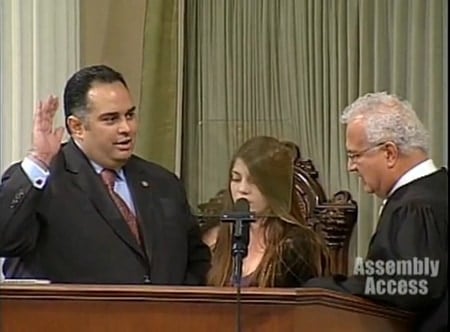 Today at the State Capitol of California, John A. Pérez (D-Los Angeles) was sworn in as Assembly Speaker. Pérez is the first openly gay man to hold that position.
The L.A. Times reports: "Democrat John A. Pérez, a first-term legislator representing parts of downtown L.A. and East Los Angeles, will face as one of his first tasks the challenge of preserving social programs for his political base as the state struggles with a roughly $20-billion budget deficit.The Gay Men's Chorus of Los Angeles sang prior to the oath."He's someone who sends a signal to the nation that being gay is no longer a barrier to greatness," said an Assembly colleague, Fiona Ma (D-San Francisco)."
SF Chronicle: "And while he's taken great pains to make clear that his sexuality does not define him, Pérez did pay homage to the historic moment, both with the choir's performance and in remarks following the oath of office. In that speech, he noted gay and lesbian politicians that came before him, saying his achievements would not be possible if not for 'people like Elaine Noble, Harvey Milk and Sheila James Kuehl, who blazed a trail of pride and purpose for gay and lesbian Californians to serve our state.'"
Watch the swearing-in, AFTER THE JUMP…