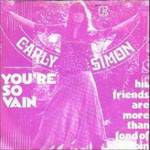 Carly Simon has told Roger Friedman at Showbiz 411 that reports her early 70's hit "You're So Vain" is about her then record producer David Geffen are wrong.
Writes Friedman:   "She emailed me last night: 'What a riot! Nothing to do with David Geffen! What a funny mistake! Someone got a clue mistaken for another mistake!'
As I wrote in the previous post about this subject, Carly did not even know David Geffen when she wrote the song in 1971.
She also writes: 'How can this guessing game stop without a lie?'
Well, one way would be to tell the real story. But why do that now and spoil all the fun?"