Zimbabwe drafts a new Constitution beginning on April 10, and President Mugabe and Prime Minister Morgan Tsvangirai today reacted to calls from some to make gay rights a part of it. That did not go over well with the leaders, New Zimbabwe reports: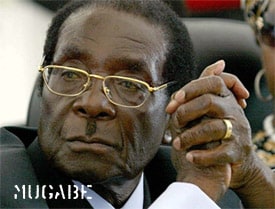 "Mugabe said homosexuality was 'just madness … insanity', and said gays were 'destroying nationhood'.
Tsvangirai, speaking after Mugabe at a Women's Day celebration event in Chitungwiza, said: "The President has spoken on the issue of gay rights, men who breathe to other men's ears.
'Never, I don't accept that culture. Why do you look for other men when women make up 52 percent of the population? Men are few.'…Amid cheers, Mugabe said: 'Three days ago, I heard that some people want us to discuss the issue of gays in the new constitution. How do we even begin to talk about it?  Those who engage in homosexual behaviour are just crazy. It's just madness. Insanity. We can't do it or the dead will turn in their graves.'
Mugabe said a family was made up of a 'father, mother and children', adding: 'If you are doing that (engaging in homosexuality), you are destroying nationhood.'
He described homosexuality as an 'alien practise that is being exported into our country'.
He added: "In Britain and the United States, I saw an archbishop blessing a gay wedding … I want to see how they will procreate. If they manage, then I will admit that I don't know …"
Mugabe once said that gays were "worse than pigs and dogs" and in 2006 threatened to arrest any clergy who dared to perform a gay marriage in the country.