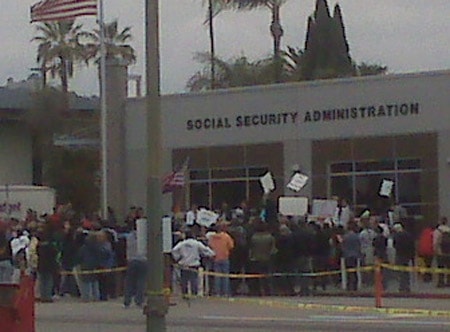 Approximately 700 people marched from the L.A. Gay and Lesbian Center to the Social Security Administration Office in Hollywood to demand equal Social Security benefits for same-sex couples, the AP reports: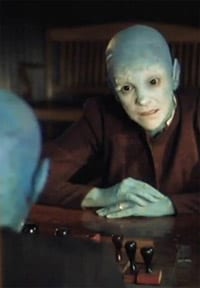 "Before the march, U.S. Rep. Linda Sanchez told the cheering crowd she would author legislation that would extend survivor benefits to older gay and lesbian couples. 'We now have quality, affordable health care coming to all,' Sanchez said. 'What good is the quality of our health care in America if Americans are not treated equally under all of our laws?' … Senior citizen Alice Herman spoke about being denied benefits after the death of her partner, Sylvia, even though they were legally married. Had Sylvia been a man, Herman said, she would have been entitled to receive her spouse's larger Social Security payments…The Gay & Lesbian Center cites research from the University of California, Los Angeles, that found that the lack of eligibility for Social Security benefits cost the surviving partners of same-sex couples an average of $5,700 per year."
The L.A. Gay and Lesbian Center reports: "Other political and community leaders at the event included Sen. Barbara Boxer, Rep. Judy Chu, Rep. Laura Richardson, L.A. City Councilmember Paul Koretz, West Hollywood Mayor Abbe Land, Center CEO Lorri L. Jean, National Gay & Lesbian Task Force Executive Director Rea Carey and AIDS Community Action Foundation President Craig R. Miller."
The protest was a kick-off of the Rock for Equality campaign. You may remember THIS VIDEO (inset photo) from the campaign. It recently won YouTube's 4th Annual DoGooder Awards. The video was voted winner in the Best Innovation in Video category.
Watch a video of the rally, AFTER THE JUMP…
UPDATE: Here's some thorough coverage of the protest from Mark Hefflinger at LGBTPOV.
(top image via twitter)