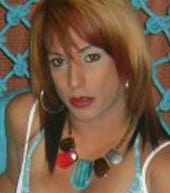 Ashley Santiago Ocasio, a 31-year-old transgender woman was brutally murdered in Puerto Rico last week and the LGBT community in that US territory is upset that authorities aren't doing enough to investigate what they believe could very well be a hate crime.
The Washington Post reports:
"The case has grabbed headlines and renewed complaints that Puerto Rico
has never invoked a 2002 hate crime law covering crimes based on sexual
orientation or gender identity."
"In the last five months alone, there have been five instances where
the statute could have been used, said Pedro Julio Serrano, a spokesman
for the National Gay and Lesbian Task Force"
"'The law is very clear and we're asking authorities to investigate without prejudice,' Serrano said."
You may recall one of those five cases being the tragic murder of George Steven Lopez Mercado, who was brutally murdered late last year. The suspect in his murder is looking at first degree murder charges but hate crime charges are not being pursued.
Police have not yet decided if they will pursue Ocasio's murder as a hate crime.