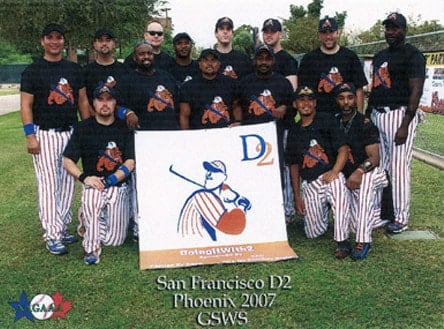 Three bisexual softball players are suing the North American Gay Amateur Athletic Alliance after it deemed them not gay enough to play in the Gay World Series and stripped their team of its second place finish. The lawsuit accuses the organization of violating Washington state anti-discrimination laws.
"The three plaintiffs — Steven Apilado, LaRon Charles and Jon Russ — played on a team called D2 that qualified for the 2008 Gay Softball World Series, which is organized by the alliance.
The alliance's rules say that each World Series team can have no more than two heterosexual players. According to the lawsuit, a competing team accused D2 of violating that rule.
Each of the three plaintiffs was called into a conference room in front of more than 25 people, and was asked 'personal and intrusive questions' about his sexual attractions and desires, purportedly to determine if the player was heterosexual or gay, the lawsuit alleges. The alliance has no category or definition for bisexual or transgender people in its rules, the plaintiff's attorney said.
At one point during the proceedings, the lawsuit alleges, one of the plaintiffs was told: 'This is the Gay World Series, not the Bisexual World Series.'
The alliance ruled the three men were 'nongay,' stripped D2 of its second-place finish and recommended that the three players be suspended from participating in the World Series for a year, according to the suit."
The National Center for Lesbian Rights is assisting the three plaintiffs with their lawsuit.
Top photo: "Steven Apilado (kneeling, second from right), Jon Russ (standing, first player from left in front row), and LaRon Charles (standing, center player in front row) with their team during the 2007 season."