CBS pulled a blog post by conservative columnist Ben Domenech after anger from the White House that Domenech had taken rumors and gossip that potential Supreme Court Elena Kagan is gay and reported it as fact, the Washington Post reports: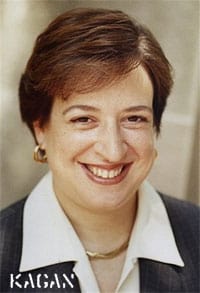 "Ben Domenech, a former Bush administration aide and Republican Senate staffer, wrote that President Obama would 'please' much of his base by picking the 'first openly gay justice.' An administration official, who asked not to be identified discussing personal matters, said Kagan is not a lesbian."
CBS refused to pull the posting (prompting White House accusations of stereotyping from a blogger with a history of plagiarism) and then deleted it late Thursday:
"The network deleted the posting Thursday night after Domenech said he was merely repeating a rumor. The flare-up underscores how quickly the battle over a Supreme Court nominee — or even a potential nominee — can turn searingly personal. Most major news organizations have policies against 'outing' gays or reporting on the sex lives of public officials unless they are related to their public duties.
A White House spokesman, Ben LaBolt, said he complained to CBS because the column 'made false charges.' Domenech later added an update to the post: 'I have to correct my text here to say that Kagan is apparently still closeted — odd, because her female partner is rather well known in Harvard circles.'"
For the record, in a post earlier this year, this is how I handled the unsubstantiated and widely available discussions of Kagan.
The WaPo adds: "Rumors invariably raise a difficult journalistic choice: whether to report on them and give them credence, or withhold them and fail to acknowledge what insiders are discussing. Marc Ambinder, a blogger for the Atlantic, wrote Monday about what he called 'a baffling whisper campaign' about Kagan "among both gay rights activists and social conservatives. . . .
'So pervasive are these rumors that two senior administration officials I spoke with this weekend acknowledged hearing about them and did not know whether they were true. . . . Why is she the subject of these rumors? Who's behind them?'"
Well, the comments section of the NYT, for one.
The other question is, why do CBS (and other mainstream outlets) lose the balls when politicians actually deserve to be outed for voting hypocritically on issues that actually affect people's lives?