David Archuleta took to Twitter last night after a report was published that he had been spotted at NYC's gay nightspot Club 57, despite the fact that the report acknowledged that he was only there to see dance artist Charice perform:
"So, was David bumping and grinding with some steamy Dominican muscle man? Hardly. David was there with his friend Charice, who performed a dance remix of her current hit single, 'Pyramid' at the coveted 1:30 a.m. spot. Reportedly, however, Charice and her entourage, which included David and his old band mate Eli, did do something terribly scandalous after the performance: They went to a local Pinkberry for ice cream."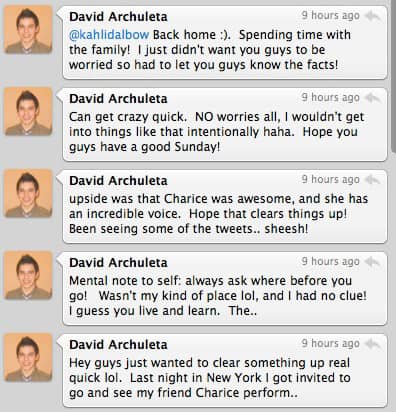 Wrote Archuleta: "Mental note to self: always ask where before you go! Wasn't my kind of place lol, and I had no clue! I guess you live and learn."
He later added: "I wouldn't get into things like that intentionally haha."
And finally, "I didn't want you guys to be worried so had to let you know the facts."
Presumably Archuleta has a lot of gay fans. It's too bad he considers being thought of as gay something to freak out about."