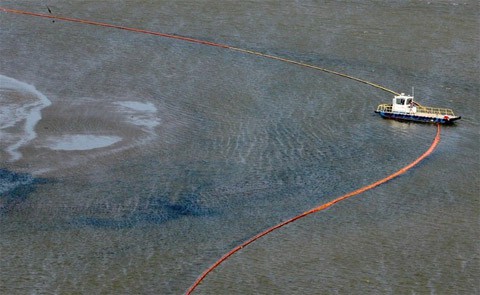 Reports that the massive oil slick in the Gulf of Mexico has started to come ashore are beginning to come in, the NYT reports: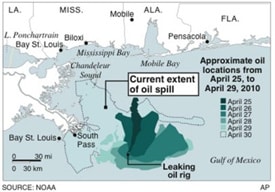 "About 40,000 feet of boom had been placed around Pass-a-Loutre, the area of the Mississippi River Delta where the oil was expected to touch first, a spokesman for Mr. Jindal said.
The Navy provided 50 contractors, 7 skimming systems and 66,000 feet of inflatable containment boom, a spokesman said. About 210,000 feet of boom had been laid down to protect the shoreline in several places along the Gulf Coast, though experts said that marshlands presented a far more daunting cleaning challenge than sandy beaches."
The smell from the slick is preceding it: "New Orleans residents are understandably annoyed over their city being enveloped by the smell of fuel. Mandie Landry, an attorney who works in the city's Central Business District, told Yahoo! News that 'it smells like it'd smell if a bus was in front of you blowing out exhaust fumes right in your face.' Another local resident, Tulane University employee Laura Mogg, told us that she caught wind of the 'terrible' and 'gag-inducing' smell from her office building on the school's sprawling uptown campus."
Health officials have now called for air quality testing:
"If it is determined that air quality issues exist, state officials will immediately inform local authorities and 'take any other action deemed appropriate to protect public health and safety,' they said in a statement.
State health officials advised that some people may be sensitive to changes in air quality, which can cause symptoms such as nausea, vomiting or headaches.
If residents suffer any symptoms, they should consider staying indoors, ventilate their homes with air conditioning, and avoid strenuous outdoor activity."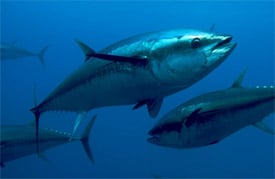 Animals most at risk from the spill include North Atlantic Bluefin Tuna, which use the Gulf as a spawning ground from April thought June, sea turtles, Whale sharks, dolphins, brown pelicans, shrimp, blue crab, marsh-dwelling fish, otters, and beach-nesting and migratory shorebirds.
The spill is calling Obama's plans for offshore drilling into question: "Hours before the spill started washing ashore in Louisiana late Thursday, members of Congress issued new calls for Obama to abandon his plans for expanded offshore drilling, and White House officials conceded that the spreading oil slick could cause the president to rethink his position."