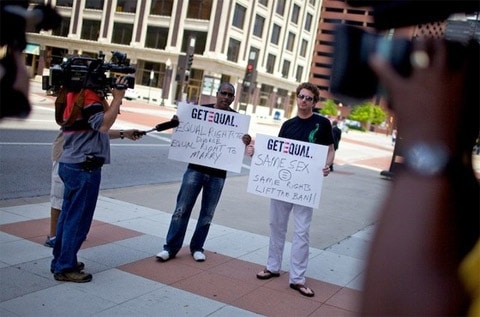 The Fifth District Court of Appeals in Texas heard arguments today in the case of a couple, JB and HB, who were married in Massachusetts and want a divorce. Judge Tena Callahan granted the couple a divorce last October when she declared the state's ban on same-sex marriage unconstitutional.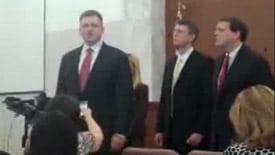 Texas Attorney General Greg Abbott appealed the ruling.
The Dallas Morning News reports:
"The attorney general's office and the conservative Plano-based Liberty Institute argued that to recognize the divorce, Texas would have to recognize the marriage. They said that that by trying to divorce, the men – identified in court records as JB and HB – were trying to overturn Texas' gay marriage ban.JB's attorney argued that JB and HB were already married and didn't need to challenge the ban. They just want a divorce."
A much more detailed report on the hearing is posted at the Dallas Voice. There is no word on when the appeals court will rule, but the case is expected to go to the Texas Supreme Court and perhaps the U.S. Supreme Court after that.
Activist group GetEQUAL, which seems to be everywhere these days, had a presence outside the Dallas courtroom. (top photo, Dallas Observer)
Watch the Dallas Voice video containing clips from a press conference and discussions with the activists, AFTER THE JUMP…