Activist group GetEQUAL, who were the group behind the recent "Don't Ask, Don't Tell" action in which Lt. Dan Choi and Captain Jim Pietrangelo chained themselves to the White House fence as well as the recent sit-ins in Nancy Pelosi's office over ENDA, will protest today as President Obama makes an appearance at a fundraiser for Senator Barbara Boxer in L.A.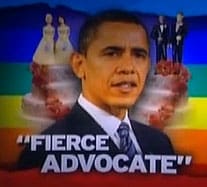 GetEQUAL announces why they'll be demonstrating in a press release:
"To demand that President Obama include DADT repeal language in his Defense Authorization budget that is in the process of being sent to Congress, and that he publicly state his support for repeal this year. While the President firmly committed to repeal DADT in his State of the Union this past January, since that time he has gone silent on whether he wants to see the anti-gay law repealed this year. Congressman Barney Frank (D-MA) recently said that he is 'disappointed' and 'frustrated' with the Obama administration's silence on DADT, and Frank has called on President Obama to publicly state his desire to repeal DADT this year."
The protest will be held at the California Science Center – Wallis Annenberg Bldg, Exposition Park, 39th St. & Figueroa St in Los Angeles.
On another note, the group has posted a public letter to Obama (which you can sign) thanking him for his recent memorandum ordering hospitals to give visitation and medical power of attorney rights to same-sex couples. The letter highlights the case I posted about over the weekend of Clay Greene and Harold Scull, the elderly gay couple who were separated by the Sonoma County and kept apart while their possessions were sold.