Tim Tebow appeared at a sold-out event at Nashville's Lipscombe University over the weekend, and one of the things he discussed was the Super Bowl ad he did for anti-gay, anti-choice group Focus on the Family.
The Palm Beach Post reports: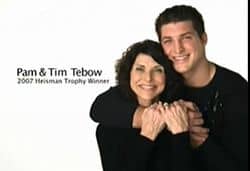 "Tebow's speech revolved around the way Tebow said he lives his life: Be willing to stand alone and to stand for something; to live life with passion; and to finish strong, which was the Gators' motto for the 2009 season.
As to his first tenet, standing for what he believes in, Tebow told the crowd that multiple companies told him before the Super Bowl that they could not let him represent their products if he went ahead with his pro-life commercial at the Super Bowl. But Tebow said losing sponsors was a small price to pay for the ability to spread his message about family and faith.
Tebow hasn't been too hurt by the commercial, though, which was sponsored by the controversial group Focus on the Family. Tebow has already been linked to major sponsorships with Nike and EA Sports, and likely has several more in the works."