Contacts:
Kyra Phillips
Anchor, CNN Newsroom
Kyra.Phillips@turner.com
(404) 827-1500
Karen Zuker
Producer, CNN Newsroom
Karen.Zuker@turner.com
(404) 827-1500
Bridget Leininger
CNN Publicity
Bridget.Leininger@turner.com
(404) 827-1500
Yesterday I posted about the irresponsible CNN Kyra Phillips segment regarding California's "gay cure" bill which featured Richard Cohen, a discredited "ex-gay" who claims to have been cured of his homosexuality.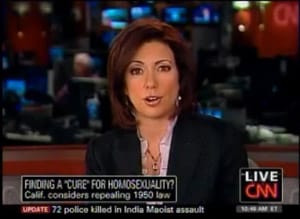 Cohen, who was permanently expelled in 2002 from the American Counseling Association for multiple violations of the ethical code, was touted by Phillips as an "expert in the field of sexual reorientation" and allowed to air his damaging and dangerous claims without anyone to counter them.
"After extensive conversations with CNN producers and publicity representatives yesterday afternoon and following our blog and twitter action, CNN called GLAAD in the evening, telling us they had received numerous complaints about the segment and inviting us to appear on this morning's broadcast with Kyra Phillips to discuss our concerns. GLAAD then scheduled a representative to go on CNN but received a phone call from the network at 7 A.M. today telling us they had decided to cancel the segment. They also issued this statement:'By bringing this story to the fore, we engage various advocates from all sides. This story does not end here and CNN will continue to explore other views and positions.' Just like the segment itself, CNN's statement misses the mark and provides no explanation for its actions. GLAAD urges you to help us hold the network accountable."
GLAAD urges people to send an email to CNN HERE.
I've reposted the segment, and CNN contact phone numbers are provided,
AFTER THE JUMP…