Grace Jones claims Lady Gaga has copied some of her outfits, and she's not happy.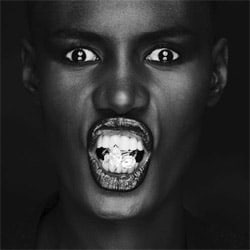 "[Grace Jones] did not make a new record for so long because there was nothing she wanted to do. Actually, she says, she did complete an album, but she couldn't stand it, so she just buried it without a release. Any number of artists have asked to collaborate with her. Was Lady Gaga one of them?'I just don't play with other acts as a rule,' she says, with rare discretion.What does she think of her? 'I really don't think of her at all. I go about my business.'Has she copied her? 'Well, you know, I've seen some things she's worn that I've worn, and that does kind of piss me off.'Is she talented? 'I wouldn't go to see her.'So, did she ask to play with her? 'Yes, she did, but I said no. I'd just prefer to work with someone who is more original and someone who is not copying me, actually.'"
In related news, a classical music group in Sydney, Australia is getting attention on YouTube for its classical version of Gaga's "Telephone" (via joe.my.god).
Listen and watch, AFTER THE JUMP…