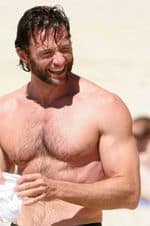 They're his own testicles, not someone else's:
"Broadway veteren Hugh Jackman is set to appear alongside Kate Winslet in a new movie by the Farrelly brothers. In the film, Jackman wil play an unfortunate man whose testicals are attached to his chin. Winslet, his date for the night, is the only person who seems to notice this oddity.
While the movie remains untitled, it's anthology style will feature a series of 17 short films. Jackman and Winslet began shooting scenes this week at the Thompson Gild Hall hotel in the Financial District. The ensemble cast also includes Gerard Butler, Naomi Watts, Justin Long and Sam Rockwell."
The film is the concept of There's Something About Mary director Peter Farrelly.
(via movieline)